If you live in the Maritimes, this time of year is all about the hodgepodge. People are patiently waiting for the first new potatoes, carrots, beans and peas to hit the store shelves.
Hodgepodge is one of those recipes that is never written down, always dictated verbally to a new hodgepodge creator. Everyone has their own take on hodgepodge and different variations, whether it's adding in bacon and brussel sprouts or ditching the heavy cream for a lighter variation using milk. It's all about the balance between your healthy new veggies doused in delicious butter and cream.
Ingredients:
Country Magic new Potatoes
1 bunch of Country Magic bunched Carrots
1 cup Country Magic green beans
1 cup Country Magic yellow beans
1/2 cup shelled peas
2 Tablespoons butter
1 cup heavy cream, blend or milk
Dried Summer Savoury or Thyme
Salt and pepper to taste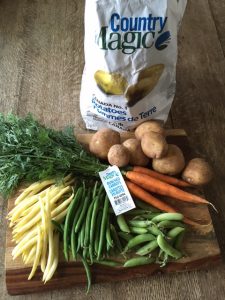 Fill A large pot with water and bring to a boil, add in your potatoes cooking for about 5 minutes before adding the other vegetables. Potatoes take longer to cook in comparison to the other veggies. Add in carrots and then the beans (which you want to be tender crisp and not overcooked) and finally add the peas. When all veggies are cooking, drain off the water and add in butter and cream. Allow the butter to melt and cream to thicken, season with summer savoury, salt and pepper to taste. Stir gently to combine.