Definition of Risotto: rice cooked usually in meat or seafood stock and seasoned (as with Parmesan cheese)
Risotto has to be one of the best ways to enjoy rice! While many people often shiver in fear when they even think about cooking a risotto, it really is not that difficult. Take a deep breath and follow the basic directions. There is a perception that risotto is difficult but it is merely patience and a little bit of a attention. The key is the use of Arborio rice and slowly adding broth and stirring to prevent sticking.
This is a base recipe for risotto that you can then modify to your pleasing. I've made this risotto and added a dash of lemon and blanched asparagus which is a delicious spring variation to this recipe. You can also start the recipe with a cup of dry white wine (instead of the first cup of broth) which will add a depth of flavour to the rice.
Ingredients:
1/2 butternut squash, peeled, seeded and diced
150 gram package of pancetta
3 tbsp butter
1 tbsp olive oil
1/2 tsp salt
black pepper to taste
1/4 tsp chili powder
1 medium yellow onion, diced
1 1/2 cup arborio rice
6 cups homemade vegetable broth (blog to come!)
salt and pepper to taste
1/8 tsp turmeric
1/4 cup heavy cream
1/2 cup parmesan shavings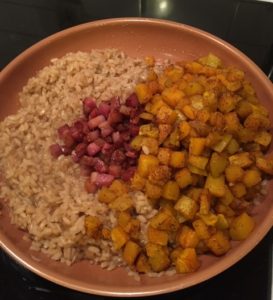 Directions:
On a lined baking sheet, roast the cubed butternut squash with olive oil, salt, pepper and a sprinkle of chili powder.
Roast until squash is deep golden brown and tender (not falling apart).
While the squash is roasting in the oven, brown the pancetta in a heated pan until crisp, remove to a plate and set aside.
In a separate saucepan over low heat, heat broth. Keep warm.
In the same large skillet (same skillet as the pancetta) over medium heat melt 2 tbsp butter.
Add onions and sauté until soft and translucent.
Add rice and stir, cooking for 1 minute until the rice starts to become fragment and absorbs the butter in the pan.
Reduce heat to low.
In 1 cup increments begin adding broth to the skillet, stirring to combine and gently stirring as broth is absorbed. Once the liquid disappears, add another cup of broth. Repeat until you reach desired taste and texture (~5-6 cups of broth).
Add salt and pepper to taste.
When the rice is tender, add in the cooked squash, pancetta and turmeric. Stir gently. I usually add an extra dash of chili powder as well.
Add cream and parmesan shavings, stir until just combined (I usually add cream to taste not the entire 1/4 cup)
Add salt and pepper to taste and serve!