I have fond memories from when I was little of walking into my grandmothers kitchen and there be hundreds of Jam Jam cookies on the counters, tables and chairs, they were everywhere and anywhere she could put them! She used to make enough for the whole family to eat and take home. This is a recipe you and your family is sure to love.
When I mention Jam Jams to most people they question what I'm talking about but once they try them they always fall in love with the recipe.
Ingredients:
1 cup butter
1 cup brown sugar
6 tbsp molasses
2 eggs
3 1/2 cups all-purpose flour
1 tsp baking soda
1 tsp vanilla
1 tsp salt
1/2 cup

 jam

*
*Jam Jams are usually made with raspberry jam, however I've not yet run into a jam that they don't taste good with! The link is for our favourite 15 minute jam!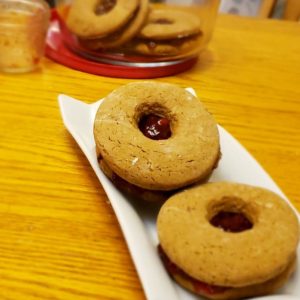 Directions:
Preheat oven to 350F
In a large bowl, combine butter, brown sugar, molasses and eggs (wet ingredients)
In separate bowl, mix together flour, baking soda, vanilla, and salt (dry ingredients)
Add dry ingredients to wet ingredients, mix well
Roll dough on floured surface to 1/4 inch thick*
Cut into an even number of 3-inch circles **
Cut out a 1-inch hole into the middle of half of the cookies ***
Place all the cookies onto parchment-lined baking sheets
Bake for 9-10 minutes
Allow cookies to cool on baking sheets for 3-4 minutes
Remove to cooling racks
Once cooled, spread the cookies with holes with jam and cover them with the cookies with holes
*Make sure to put flour on your hands and rolling pin to or else you'll get sticky
** I used a cup to cut out my cookies that way they were all the same size
*** I used the mouth of a clean, empty pop bottle so they were the same size
Recipe adapted from Alain Bosse The Kilted Chef – "The Acadian Kitchen"