I love homemade jam (I mean who doesn't!) but I always put off making it as its very time consuming and loaded with sugar! Well it seems I've found a solution!! This jam recipe is a real time saver and had no refined sugars (added bonus!!). Its completely customizable and a healthy substitute for traditional homemade jam. Its made using what ever berries or combination of berries you'd like, a natural sweetener of your choice (honey or syrup), a little water and chia seeds!
Ingredients:
1 cup berries*
1 tbsp water
1/2 tbsp natural sweetener **
1-2tbsp chia seeds***
*Use what ever berries you like; I've made it using strawberries, blueberries, and blackberries and they turned out great! I'd like to try it using peaches sometime soon to see how it turns out.
**I used real maple syrup because thats what i had on hand but you could use honey just as easily. The  amount of sweetener you use may vary depending on personal preference and the type of berries you use. Blackberries tend to be a bit tart so i used a little more syrup then the recipe called for.
***The more chia seeds you add to your jam the thicker it will be, it also thickens more as it cools so keep this in mind! When I first made this I made a little batch just to see what ratio of chia seeds to berries my family liked. I used about 1 1/2 tbsp:1 cup of berries.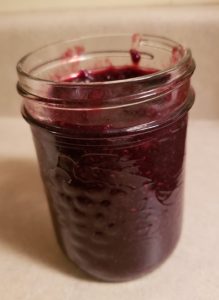 Directions:
in a saucepan on medium heat mix berries, water, and sweetener
Bring to a soft boil and start mashing berries with a fork to the side of the saucepan
Boil for about 5  more minutes
When almost smooth, add chia seeds, stir well for about 2 minutes
Remove from heat and let stand for at least 10 minutes to thicken
Add more chia seeds if jam is not the desired thickness