Biscuits are a family favourite, especially around holidays! There are plenty of biscuit recipes out there that claim they are the best, but I must say this is my go-to recipe when I need some homemade biscuits in my life!
These savoury cheddar onion biscuits are delicious and a nice change to the more traditional cheddar biscuits, I use finely chopped or minced raw yellow onions and fresh garlic. The raw onions and garlic add a nice flavour and aroma to the biscuits. I have made them using sautéed onions before, as some people don't like the punch that raw onions give, however I found the onions turned soggy once they were baked. Either way they tasted great!
Ingredients:
1 3/4 cup flour
1/2 tsp salt
1/2 tsp baking powder
5 tbsp butter
1 cup milk
1 cup cheddar cheese, shredded
1/4 cup butter, melted
1 clove garlic, minced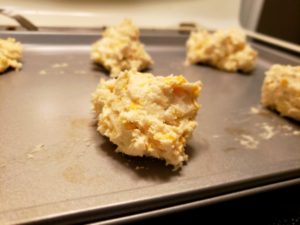 Directions:
Preheat oven to 450F
In a large bowl sift together flour, salt and baking powder.
Cut in butter until it resembles coarse crumbles.
Make a well in the centre of the flour mixture, add milk and mix well.
Stir in onions and cheese.*
drop batter by the spoonful onto an ungreased baking sheet.
Bake for 12-15 minutes, until lightly browned.
Meanwhile, mix melted butter and minced garlic.
Brush garlic butter over hot biscuits and serve!
*I make mine with raw onions chopped finely or minced, I have made the biscuits with sautéed onions before but they become a little soft for my families liking. Either way, raw or sautéed, they turn out delicious!!