With summer coming to a close and school starting up life is getting rather hectic if you ask me! The last thing I want to be worried about if what are we going to have for supper. I don't want to have to come home from work and spend the entire night in the kitchen when I could be spending time with my family, that's why I use 'sheet' baking! It's a quick and easy and healthy way to cook supper for the whole family!
Its pretty simple you take some vegetables that your family enjoys, add some oil, spices, and chicken; place in the oven and voila supper is ready!
I normally make this meal in the oven but as we have had a summer of heat waves I've adapted the recipe to the BBQ because it was way too hot to have the oven going.
Ingredients:
2lb chicken thighs/drums
2 medium Country Magic yellow or red onions, cubed
2 stalk celery, cubed
4-6 Country Magic Potatoes white or red, cubed
1 pint Country Magic grape tomatoes, halved
2 cloves garlic, minced
olive oil
1-2 tbsp balsamic vinegar
salt & pepper to taste
fresh parsley, chopped
dried herbs (thyme, rosemary, oregano etc.)
Carrots or any other favourite vegetables can be added to this recipe as well!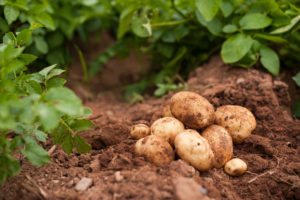 Oven roasted:
Preheat oven to 425F
Wash & prepare vegetables.
Place vegetables in bottom of deep baking dish.
Drizzle with olive oil & vinegar.
Sprinkle with dried herbs, garlic, salt & pepper.
Rub chicken with olive oil and season with salt and pepper or herbs of your choice
Place chicken on top of vegetables
Bake for 1 hour (until chicken is done)
Remove chicken and let rest
Stir vegetables*
Garnish with parsley and serve
*Vegetables may need to be cooked slightly longer. Place back in oven ~10 minutes or until they are cooked to you liking.
BBQ:
Prepare vegetables in wide strips or round "steaks"
Toss vegetables in olive oil, vinegar, garlic, dried herbs, salt & pepper
Rub chicken with salt & pepper or herbs of your choice**
Place on BBQ in single layer (low setting)
Cook for 20-30 minutes, flipping vegetables every 8-10 minutes
Place chicken on BBQ (high setting)
Cook for 20-25 minutes (until chicken is cooked through). Flip the chicken every 5 minutes, and the vegetables every 10 minutes.
Serve and enjoy!
**I always use BBQ sauce on my chicken when cooking this way. Instead of using the dry rub, brush over your favorite BBQ sauce after flipping every time until done.