Portion control is always an issue when I make dishes, as it is very easy to fill your plate at the dinner table. These tomato tortilla quiches are an excellent way to keep portions where they should be. This recipe is easy to prepare ahead of time and very quick! There is also lot of room for customizing and making the dish your own, which is great for picky eaters!
Ingredients:
6- 8 medium flour tortillas*
1 pint Country Magic Grape Tomatoes, cut in half
2 green onions, thinly sliced
large handful of fresh cilantro , chopped
8 eggs
1 cup fresh tomato salsa 
2 tsp chili flakes or taco spices/tex mex seasoning
1 cup grated cheese
*I usually don't have medium tortillas at the house so I cut the large tortillas into smaller ones using a bowl as a guide. I then use the extra tortilla scraps to make tortilla chips!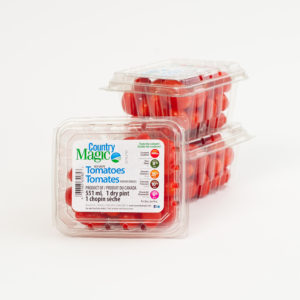 Directions:
Preheat oven to 350F
Lightly spray muffin pan with cooking spay or brush with oil. Place muffin pan on baking sheet (Just trying to keep everyones ovens clean!)
Line each muffin cup with tortilla (try and pleat the tortillas so they will stay in the cups and hold everything together)
Stir together the tomatoes, green onions, and cilantro
Divide mixture evenly into tortilla cups
Whisk together eggs, salsa, spices, and half the cheese
Divide mixture evenly into tortilla cups
Top with remaining cheese
fill empty tins with 2tbsp water
Bake until the quiches are firm to the touch (about 25-30 minutes)
Let rest 5 minutes before serving
*If you plan on freezing them, be aware that the tortilla might not hold up once it is reheated. I found my tortillas turned soft after freezing and re-heating them, so I would suggest placing them in a bowl, but they were still delicious! You could also drain your salsa before using it to reduce the amount of moisture when re-heating.
Recipe adapted from Michael Smith Make Ahead Meals