The first thing that I immediately think of when strawberry season hits is strawberry shortcake. In an attempt to use berries in a more nutritious manner I've been eating yogurt with homemade granola and fresh berries (who am I kidding though!). I'm still dreaming of strawberries smothered in whipped cream atop a homemade biscuit.
Most of my cooking uses recipes as more of a "guideline" than solid framework. I follow my grandmother's method of cooking with a pinch of this and a smidge of that. This recipe provides a base that you can build to your liking and preferences.
Homemade Granola Recipe.
1/4 cup pure maple syrup
3 TBSP melted coconut oil
2 TBSP honey
1 + 1/2 tsp pure vanilla extract
1 tsp cinnamon
1/4 tsp sea salt
2 cups old fashioned rolled oats
Nuts, seeds and dried fruit of choice.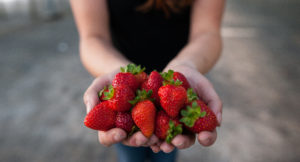 Instructions:
Preheat oven to 300 degrees F and line a baking sheet with parchment paper while you prepare the granola.
Mix together maple syrup, coconut oil, honey, vanilla, cinnamon (I used pumpkin spice because I couldn't find cinnamon in my messy spice cabinet) and salt in a large mixing bowl.
Once well mixed add your oats and nuts of choice. I used this as an opportunity to clean out my cupboard of various nuts and seeds. I used ¼ cup each of shelled pistachios, sliced almonds, pumpkin seeds, sunflower seeds and coconut smiles *. Mix ensuring everything is coated and sticky.
Spread the mixture in an even layer on baking sheet, the even layer will allow you to break it into nice chunky pieces once it's cooked.
Bake for a total of 30-40 minutes. This varies on oven (mine runs hot) and how crisp you like your granola. If you want big chunky pieces don't stir the granola mixture on the pan part way through cooking, if you want smaller pieces then break it up a bit at the halfway point. It also helps to rotate the pan for even cooking.
I found that I had added so many nuts and seeds that the granola wasn't sticking as much as I wanted so I added another drizzle of honey overtop of it halfway through cooking. This is when you can add dried fruit, pressing it into the top when the granola was almost done to my liking.
Allow the granola to fully cool before breaking it apart.
Store in an airtight container for up to 2 weeks.*Note* I like dried fruit in my granola but add this at the end, turns out it will turn rock hard if added early on and put in the oven.