The first new potatoes of the season are always the real sign of summer to me. Fresh early potatoes boiled with butter is a go to but there are lots of other ways to use early potatoes in creative ways. After working all day I was lacking motivation to cook a real meal and had some veggies that needed used. The result was this easy potato salad that doesn't follow any traditional potato salad recipe and doesn't have any measured quantities.
Ingredients:
2lb of Country Magic Early potatoes
Olive Oil
Pinch of Salt
Dash of Pepper
Handful of Asparagus
Glob of Mayonnaise
Generous glob of Pesto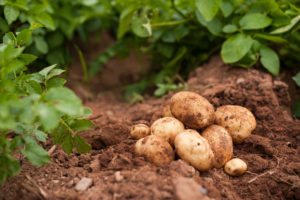 Instructions:
Preheat oven to 400F and line a baking sheet with parchment paper.
Wash and quarter Country Magic Potatoes.
Toss potatoes in olive oil, sprinkle with salt and pepper. Spread the potatoes in a single layer on the lined baking sheet.
Put in the oven to roast for approximately 30 minutes until the outside is crunchy and golden. Stir the potatoes every 10 minutes to prevent sticking.
While the potatoes are roasting, start preparing the asparagus. Snap the ends of the asparagus to remove the tough ends of the spears. Cut asparagus spears into 1-2 inch pieces.
Cook the asparagus however you prefer (oven, stove, grill etc). I typically blanche my asparagus because I like them a little crisp.
Mix roasted potatoes, asparagus, a glob of mayo and a glob of pesto. Easier potato salad ever.
First serving I ate warm and the next day I had it cold accompanied by a lobster roll. Either way they tasted great!!